@BonsaiKindred: Of course. I'd love to put together something of a tutorial, giving a bit more indepth look at dipping. I'll try to get to it soon.
@Foxtale: Great points. Do you mean terrain that comes up and in some ways covers the figure, thus obscuring the thinness (a bit like the grass in the photo below)? Does the base below achieve what you're suggesting, or not?
Update 7/7/06 (1:40 AM -- man, I should be in bed. No, miniature-blogging is better than sleep!): First Painted Wild Rider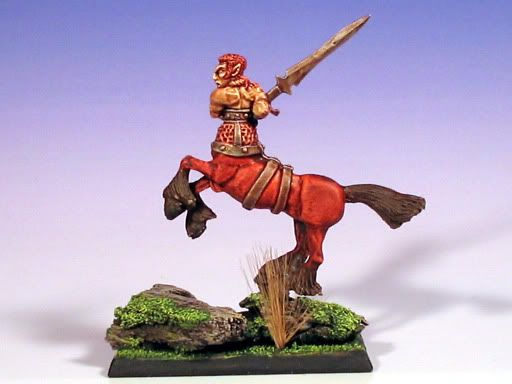 What do you think? Do the colors work? Does the base look okay. I'm still trying to stay within the realm of quick painting, so it's not super-ornate, but I want it to be effective. I think I have to smack the hair on the legs with a dark wash and some highlights. It looks especially flat in these pictures.
More pictures as well as the whole photo album of the riders, pre-conversion and pre-painting, is here:
http://smg.photobucket.com/albums/v207/ ... edia=image
They're all partially painted, but I don't think I'll finish tomorrow. My fiance is coming back from 3 weeks in California, so I doubt I'll be painting much.
cheers,
j