Hello Everyone,
I'm creating this thread for everyone to post pictures of WE terrain pictures and/or Terrain Lists/Charts. I used to keep this "project log" over another site, which now is pretty dead, so I am moving it here, with the addition that I would love to see everyone's else ideas and pictures for terrain or how they see Athel Loren.
here goes:
Below is the a terrain chart. Basically the terrain we have for a region is lumped into 3 categories and you roll a d6 to see what you want to place (or you can always pass). The categories are (1-3 Common, 5-6 Scarce, 6 Unique (only one type of each permitted). You can choose from any of the pieces in the category you roll,as long as there are some left in the box (or reasonable equivalent)
special features Are as per the 7th BRB
Description
Over View shot [font color=red]Status: need to finish a couple more pieces[/font] Photo? No
Common
Forest
Low Hill
Forested hill
Deep Forest
(as woods but only accessible to skirmishers)
Scarce
(note I'm trying to keep any real "woods" out of this category for the sanity of my opponents).
Ancient Fallen Log
– Log from a huge and ancient tree, defended obstacles
Forest Dwellings
– small buildings/tree house/or tents built by elves, beastmen, or others
Way Stone
– (arcane Monolith and see see below) impassable.
Overgrown Ruins
– Difficult terrain, hard cover.
Unique
Spite Infested Groove
– See below
Sylvan Idol
( Ancient Idol) – Ssacred Tree or shrine
Herdstone
(Fell Ruins) –impassable.
Elven Hall
– See Below
Meadow lake
– Pool of water ( very difficult terrain) with stream (difficult terrain) that leads to table edge (chosen by opponent)
Ancient Forest
- Cluster of 2-3 fallen Logs, randomize orintation of each log
Detailed Descriptions
Waystones
: I was going to use the basic arcane monolith rules (extra magic dice) and additionally state that Forest Spiritis within 6" are subject to stupidity but gain MR +1 (additive to what they already get), thoughts?
Elven Hall:
This is an opening to a great elven hall, It acts like a small building, but there is no limit to the number of models that can be and or shoot from inside. Basicically there is a large underground space with potentinally lots of sneaky shooting holes.
Spite infested Grove:
This grove is the home of a colony of mischievous spites who may or may not welcome any intruder , roll a dice for the first unit that enters or is deployed here.
1. They Hates you – your unit takes 2d6 S2 magical Hits.
2. Hey that not my shadow!?! Ahhh - the unit must take a terror test.
3. They want to play- The unit looses all sense of time and distance as the woods twist and turn around them. Remove the unit from the table. The must roll a 4+ at the beginning of each players turn to come back. Once back They may be placed anywhere in in any woods on the table.
4. You amuse them- the spites swarm around you for the rest of the battle, all attacks are considered magical.
5. Little Buddies, The Spites go along for a ride adding d6 S2 magic attacks per combat phase until the unit losses a round of combat.
6. Wish Granted, you may freely cast one spell of your choice from the lore of Athel Loren in your next magic phase.
OK Here are the Pictures, Note these Are table top quality, Once I get the whole set done I may go back and pretty them up (if my attention span is that long)
Here is an Overview of most of the terrain setup for a battle (not we normally just use around 6 pieces of Terrain!, I just wanted to put it all out there for a good visual . ..)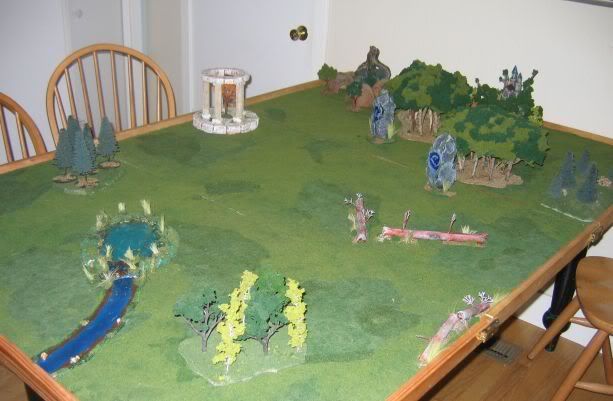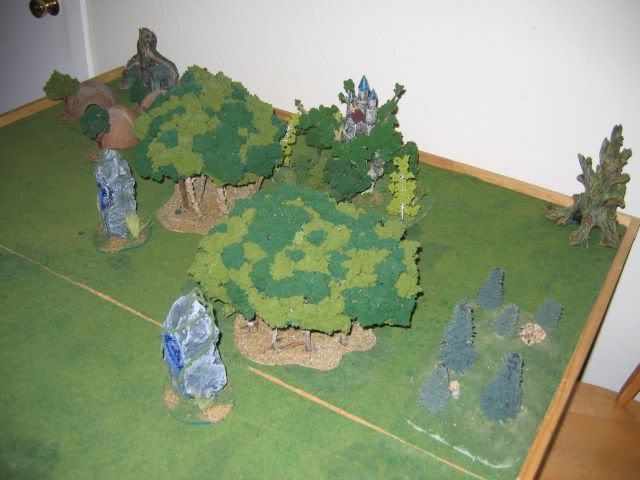 Woods (I've got a few of these, made with trees from the rail road store):
Deep Forest, Made as per the Generals Compendium. These got a little beatup in transit to my friends house (he has a sweet camera and setup)(Storing and moving terrain is one of the biggest problems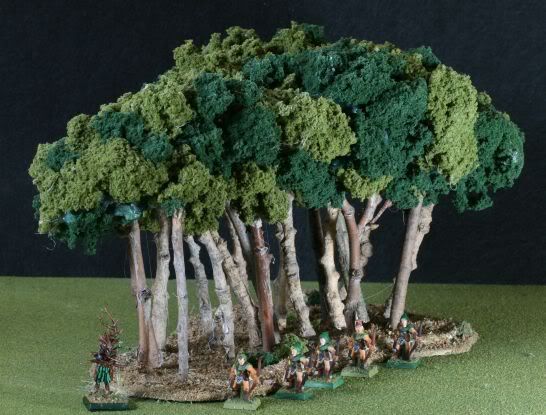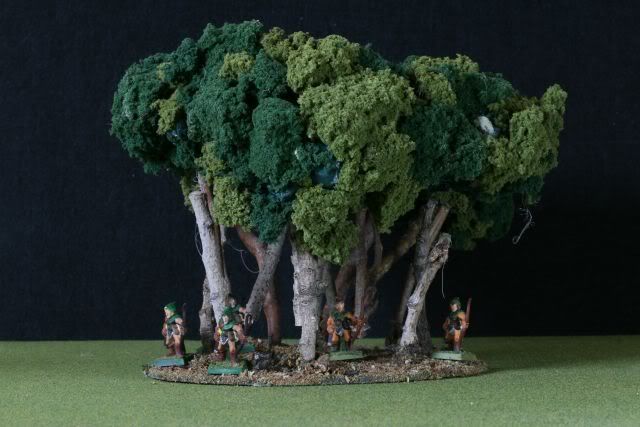 Note that the Top comes over to you can mover your skirmashers through them.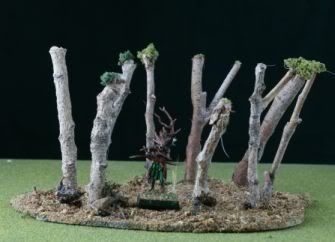 Fallen Logs, these are the 3 I have made, the log is a piece of bamboo.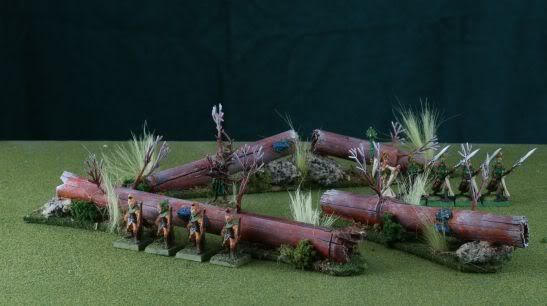 Way stones, gotta have these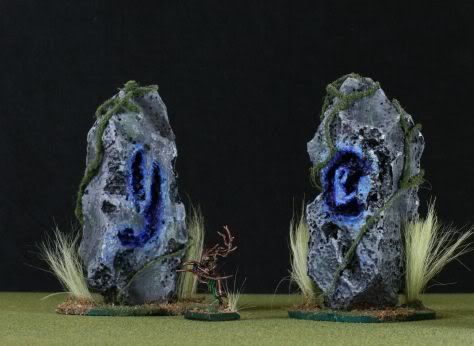 Overgrown ruins, Aquarium decorations with some added painting and flock.
Wooded Hills - nothing too fancy, Coniferous tree bases on my standard hills, I need to finish painting the tree bases.
Forest Dwellings, these arn't necessarily woodelf house, perhaps beastmen or other forest creatures, the actual pieces are half coconut shells, they double as jungle dwellings with my lustria set, I may eventually work on some more Elven dwellings (tree houses and such)
Spite Infested Groove, This is a single tree that drops into one of my other Woods. The castle is an aquarium piece. The spite is a warmaster witchelf with some green stuff. I need to add a few more of those . . .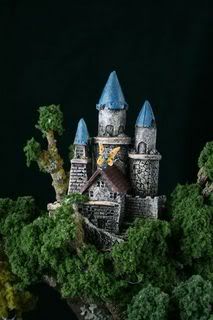 Sylvan Idol, This doubles as a High Elf Shrine to Isha. And in Athel Loren it could be a reall really old shring, when I use it I will add some more tree and grass bases around it. I need to take another photo like that. . .
Meadow Lake, I've got a hole set of river sectinos that will lead from the lake to a table edge. The second photo has the grass bases a little too dense in the middel, they are movable.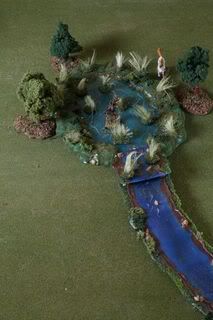 Here is a dryad in the lake
Here is my Free Wood, the trees are on magnetized bases, its built on a metal plate.