Ok, I thought I'd try to do a battle report, how hard can it be right? I'm a big fan of decent battle reports, so hopefully this won't be too rubbish, and you can all point out the things I should have done.
My opponent, Gareth, and I have decided to play through the little Border Wars campaign pack which he has just bought. I had intended to use a Dragon + Double treeman list, but as it's a campaign and the armies are pretty much fixed for all the games, I wussed out and went for something a bit more conventional.
My List -
Spellweaver - Unicorn, The Wand of Wytch Elm, Glamourweave (the magic item as well as the kindred) - Shamelessly stolen from Pusherman
http://www.asrai.org/viewtopic.php?f=13&t=24808
Noble - BSB, Asyendi's Bane, Hail of Doom
Alter Noble - Helm of the Hunt, Rageths Wildfire Blades, Potion of Strength, Light Armour + Shield - Shamelessly stolen from the Killer Noble Tread
http://www.asrai.org/viewtopic.php?f=8&t=25002
12x Glade Guard - Banner of Eternal Flame and Musician
12x Glade Guard - Standard and Musician
12x Glade Guard - Musician
10x Dryad
10x Dryad
6x Scouts
6x Wildriders - Standard and Musician
5x Wildriders - Standard and Musician
4x Treekin
2x Great Eagles
1x Treeman
Which I make 2497pts. The Spell weaver chose the Lore of Beats and ended up with Wyssans Wildform, Flock of Doom, Amber Spear and Curse of Anrahier which I was pretty pleased with.
Gareth's list was roughly (didn't want to look at it as he'll be using it in the later games)-
Grey Seer
Warlord on a War Litter
Chieftain BSB
Another Chieftain
Warlock Engineer with a Doom Rocket
Plague Priest with a Flail
Assassin with a Potion of Strength and the Obsidian Amulet
30x Clan Rats
31x Storm Vermin - shields, Halberds and the Storm Banner
40x Slaves
40x Slaves
29x Plague Monks - Plague Banner
8x Gutter Runners - Poisoned Slings
Hellpit Abomination
Doomwheel
Warplightening Cannon
The Plague Priest rolled Plague and the Seer got Skitterleap, Cloud of Corruption, Howling Warpgale and Death Frenzy along with 2 warpstone tokens
The Scenario (Border Conflict or something - have forgotten it's name) required that there be a river down the middle of the board with tress and hills at one side and a plain on the other. I was given the foresty-hilly side as it seemed more thematic - Ace! The scenario then requires both side to choose a strategy. I went a bit conservative and choose to Hold, Gareth went for Scout. Consulting the matrix this meant that Gareth could choose the scenario. He chose Meeting Engagement (other options were Battline or Blood and Glory). I was allowed to pick a Stratagem. Again I was conservative and opted for one that will give me a unit worth D6x50 points in the next game.
Gareth won the roll off and chose which way to divide the table (as we had already allocated sides), and set about deploying his army with the Warplightening Cannon and the Plague Monks delayed. The Gutter Runners chose to Sneaky Infiltrate. I then deployed my army, with the unit of 6 Wildriders and the Treekin being late. Gareth was careful to leave me now-where to deploy my scouts behind his line, and as I didn't know where the Warplightening Cannon would arrive I opted to put them over on the far left to help the Glade Guard Shoot down the Abomination.
There is a map of the deployment here. Sorry about the bluryness, I had the camera in macro mode
So I have put little labels on so you can see what's what.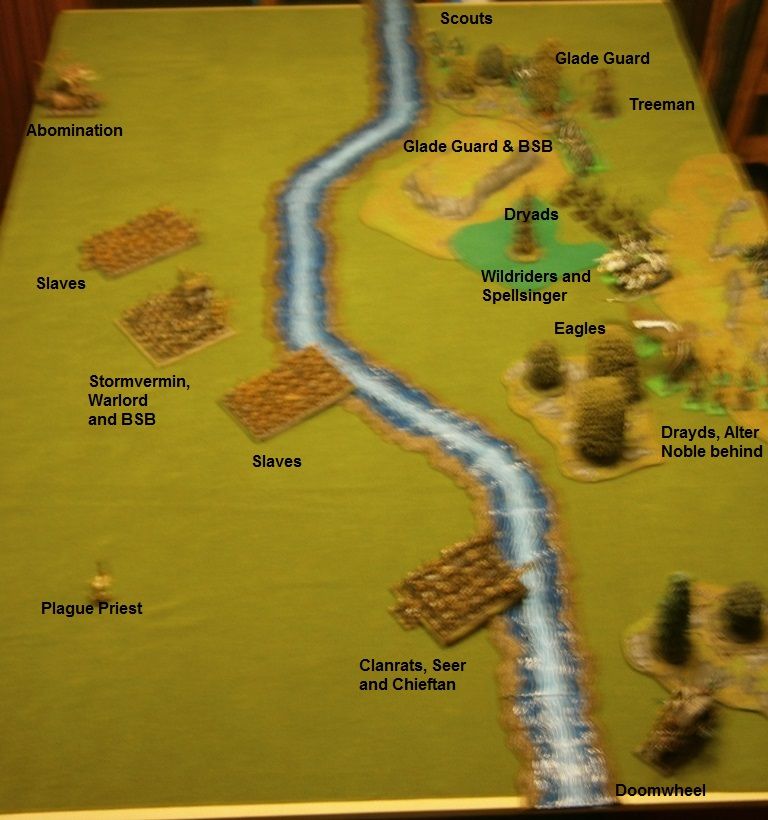 At this point I didn't have a proper plan (I usually don't - it's probably a failing). I had in mind to use the 2 units of Glade Guard and Scouts to shoot down the Abomination (the Glade Guard with the BSB behind the hill have the flaming banner), Try and charge the Doomwheel with the Alter Noble as soon as it moved through the woods and use the Eagles to chase down the Warplightening Cannon as soon as it moved onto the board. Should probably mention the Plague Priest is on his own primarily to stop me deploying my scouts behind his lines, but also to await the arrival of the Plague Monks.
I managed to roll a 6 to seize the initiative, but then realising I'd sort of set up to go second, opted to make Gareth take the first turn.